Hand-tied bouquet machine
Bouquet making conveyor fitted with 12 to 16 workstations to make up to 1600 hand-tied bouquets per hour.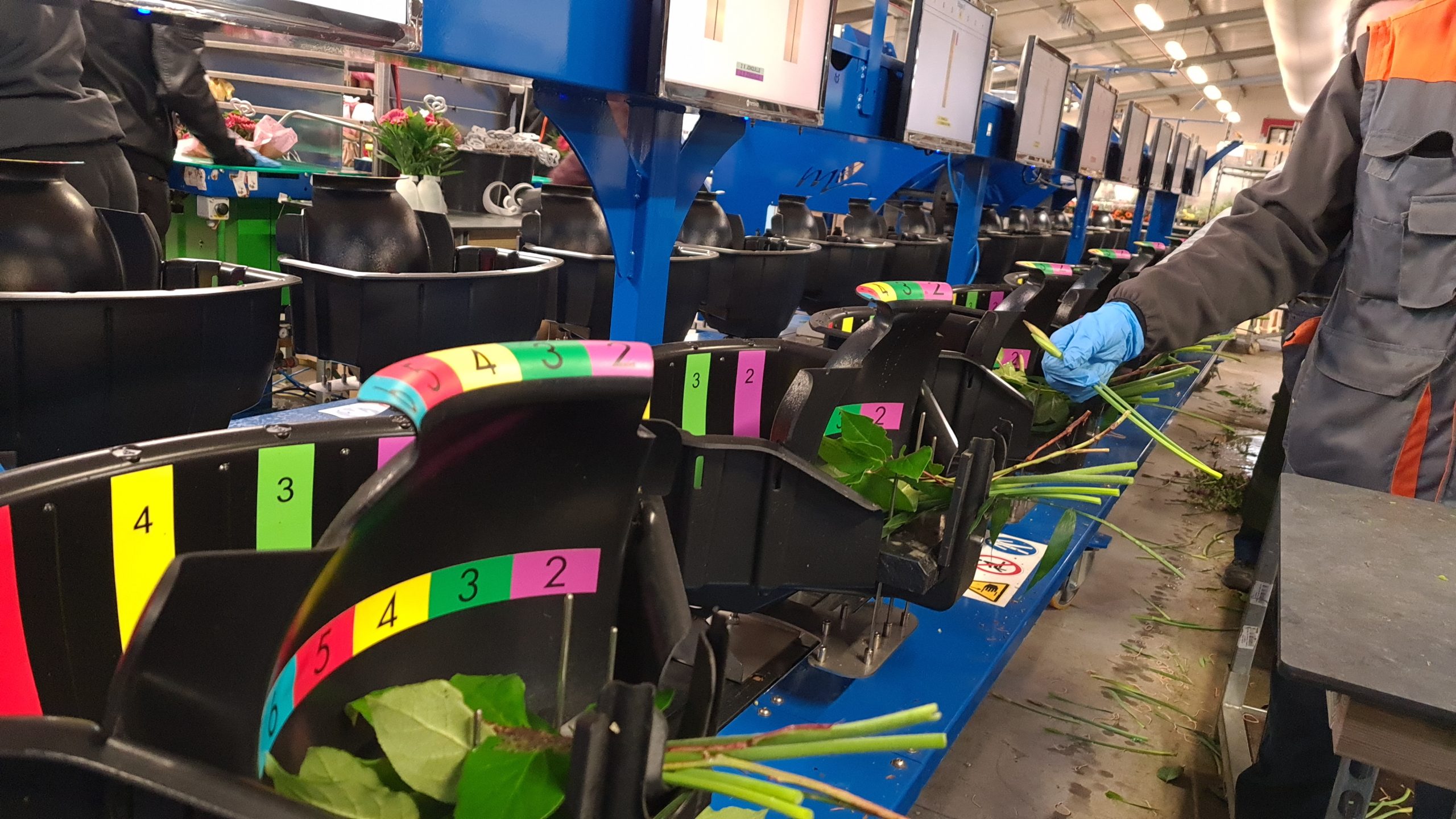 Hand-tied bouquet machine
Make hand-tied bouquets like a florist with our machine fitted with bouquet cradles and a computer system to make easily complex recipes.
Simply create your bouquet recipes on the integrated production software to displays the production steps on the displays of each workstations, the operators are guided to put the stems in the numbered compartments of the bowl. Once the recipe is complete, the bouquets are automatically tied and cut. You just have to pick them up and pack them.
Technical information
Production capacity : up to 1200 bouquets cut and bound per hour with the standard 12 workstations version, and up to 1600 bouquets cut and bound per hour with the 16 workstations version
For 35 to 60cm long bouquets, with 8 to 40 stems
Weight : 2800kg (12 stations) / 3600kg (18 stations)
Dimensions : 12×3.8×2.3m (12m) / 18×3.8×2.3m (18m)
Power supply : 220-240V, 50/60Hz, 3G 2,5mm² cable, 20A circuit breaker, 2,5kW electric power
Compressed air : 6 bars for the cleaning airgun
Main features
Spherical bouquet creation cradles with 7 compartments to make round bouquets with a maximum diameter of 40cm
Optional insert sets to make bouquets with 2 heights or short aquapack/ Mason Jar bouquets
Automatic binding, cutting of the stems and extraction of the waste
Advantages
Productivity gains : at least 30% compared to hand-made bouquets
Massive production capacity to cope with the production peaks
Product consistency and compliance with the recipes designs
No qualified operators required : 5 minutes training only
Less product manipulation thus less broken stems
Better working conditions for operators : less carpal tunnel syndrome
MECAFLOR, working together to make your mechanization projects successful.